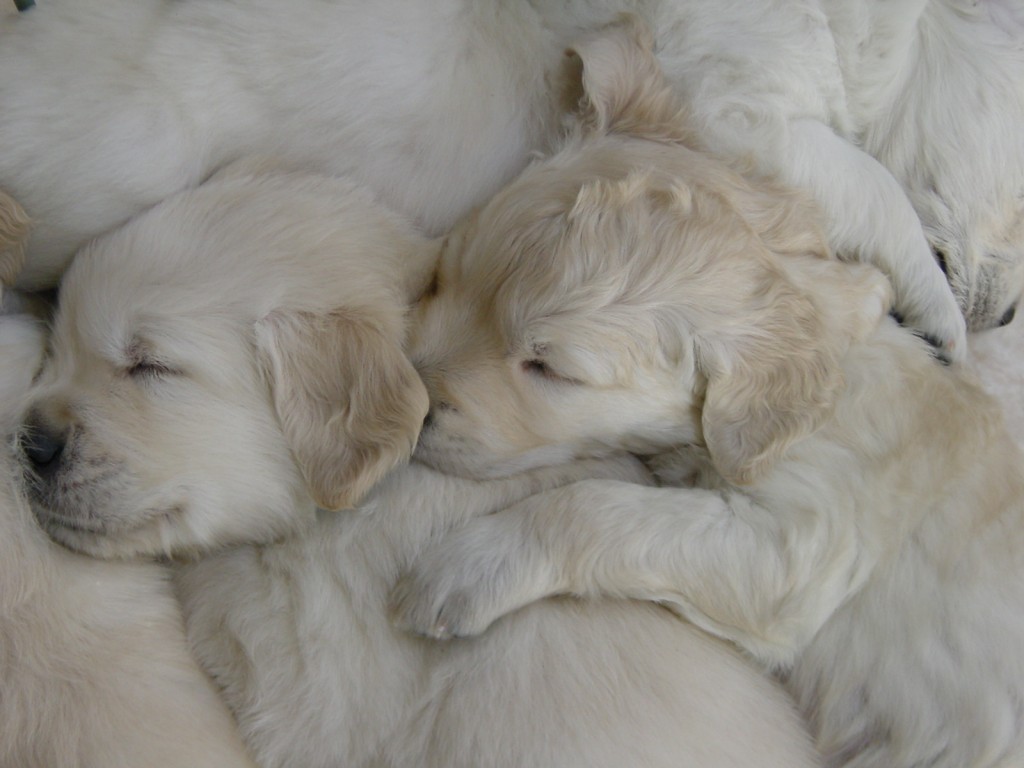 Elevage du Bois de l'Estrée
Golden Retriever's pour les familles actives et pour la chasse
Bois de l'Estrée est un élevage familial, enregistré auprès de la Société Royal Saint Hubert de Belgique, agréé par la région wallonne SPW Agreement HK01220139,  situé en Belgique, au sud de Bruxelles à Braine l'Alleud. Actif dans la race depuis 1998 et suis membre du RCCDISH. J'ai également servi un nombre d'année dans d'autres club comme moniteur et actuellement je m'occupe du Golden Retriever Education And Training Club.
Comme le Golden Retriever est à l'origine une race de chien de chasse, nous croyons fermement aujourd'hui que le Golden doit conserver ses aptitudes au travail. Pour garantir que nos lignés gardent les caractéristiques du Golden Retriever je participe activement aux formations, aux épreuves d'obéissances, de travail et aux Field Trial avec tous mes chiens.
Quand nos chiots naissent ils grandissent dans un endroit calme, confortable, jusqu'à ce que leurs yeux s'ouvrent. Ils passent alors dans la cuisine où ils sont mis en présence des bruits et mouvements de tous les jours d'une famille. A partir de ce moment les visites commencent pour permettre aux chiots de se construire et se sociabiliser.
Tous les chiots sont enregistrés à la SRSH, avec microchips, examinés par notre vétérinaire et en ordre de vaccination. Nous fournissons le certificat de garantie de la région wallonne sur la santé des chiots, des instructions pour le bien être des chiots et pour leur éducation.
Si vous désirez plus d'information sur la manière dont nous élevons nos chiots ou si vous désirez ajouter votre nom à notre liste de réservation, vous pouvez nous contacter par email (donnez nous quelques informations sur vous et sur ce que vous recherchez dans un chiot).
Comme il est important pour nous que les chiots soient achetés chez des éleveurs de confiance et que nous n'aimons pas maintenir une liste de réservation importante pour une longue période, si au moment où vous cherchez un chiot et que nous n'en disposions pas nous serons très heureux de vous aider à trouver un chiot auprès d'éleveurs de confiance dans votre région.
Attention:

tous nos chiots sont vendus sous les règles de la SRSH,
nous réservons le droit de refuser la vente d'un chiot à tout moment
Bois de l'Estrée
Braine l'Alleud
Kennel du Bois de l'Estrée
Hunting and multi-purpose Golden Retriever's
Bois de l'Estrée is a home-based, Belgium Kennel SRSH registered, with the agreement of the regio SPW Agreement HK01220139, Golden Retriever kennel located in Belgium, south of Brussels at Braine l'Alleud. I have been active in the breed since 1998 and I am a member in good standing with RCCDISH. I have also served for a number of years on the UGC as Training monitor and I work actually with the Golden Retriever Education And Training Club.
As the Golden Retriever was originally bred to be a sporting dog, We strongly believe today's Goldens should still maintain this working ability. To ensure our lines retain the proper Golden Retriever characteristics I actively participate in Conformation, Obedience, Hunt Tests and Tracking with all the dogs.
When our puppies are whelped they are raised in a quiet, comfortable room until their eyes and ears open. We then move the puppies to the Kitchen so they may fully experience the hustle and bustle of everyday family life. At this time visitation starts in order to build up the puppies life skills and socialization skills.
All our puppies are SRSH registered, micro-chipped, and Vet-examined with their first vaccinations. We provide the Walloon region's guarantee certificate on the health of the puppies, instructions for the well-being of the puppies and for their education.
If you wish further information about how we raise our puppies or if you wish to have your name added to our reservation list for a puppy from a future litter, you may contact us by email (please include some information about yourself and what qualities you are looking for in a puppy).
As it is important to us that puppies are purchased from reputable breeders and since we do not like to maintain a large waiting list for lengthy periods of time, if at the time you are looking and we have no puppies available we would be more then happy to assist you in finding another reputable breeder in your area.
Please be advised:

all our puppies are sold with SRSH agreement,
we reserve the right to return all deposits and refuse to sell a puppy to any home we deem unsuitable at any time for any reason.
Bois de l'Estrée
Braine l'Alleud